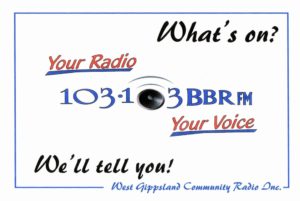 Hello Members and Friends of 3BBR-FM
Hope you enjoyed a pleasant Christmas and New Year period.
Our recent sausage sizzle on December 21 at Bunnings Warragul raised $746.11 which was an excellent result for a Friday sizzle. Our two November sizzles (at Woolworths and and at Bunnings Warragul) raised $405.00 and $839.93 respectively.
Total funds raised from the three sausage sizzles was $1991.04.
Thanks to those members and friends who helped with these sausage sizzles.
Our 2019 sausage sizzles at Bunnings Warragul are scheduled for Friday 25 January and Sunday 23 June.  We will most likely fit in two or three at Woolworths during the year at dates yet to be decided.
All the best for 2019 while listening to 3BBR-FM (our own community radio station in West Gippsland).
kind regards
Graeme Marriott
Treasurer
3BBR-FM